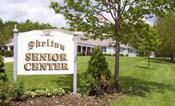 Contact:
Doreen Laucella Acting Director
Location:
Shelton Senior Center
Address:
81 Wheeler Street
City, State, Zip:
Shelton, CT 06484
Telephone:
Info Line
Hours:
9:00am – 4:30pm
Monday – Friday
Our Mission
All are welcome here at the Shelton Senior Center, residents and non-residents. Our top priority is to provide our seniors with a wide range of services and classes, social events, activities, fitness classes, trips and outings, educational workshops, and health/safety awareness programs.
Membership

All seniors ages 55 and older are welcome to join. Membership applications must be filled out in person at the Center. All memberships are effective January of each year and expire December 31st the same year. We do accept applications year round. No prorating. Cash or check only.
• Shelton Residents Rate: $4.00 per year
• Ansonia, Derby and Seymour Residents Rate: $7.00 per year
• All other out of town Residents Rate: $10.00 per year
Monthly Newsletter
A copy of our monthly newsletter is mailed out each month to all active members. It can also be viewed online for public viewing on the City of Shelton main page (www.cityofshelton.org). Please click on the Senoir Center link to upload.
Shelton Senior Center Offerings
• FREE transportation is available to all Shelton residents on Mondays, Wednesdays & Fridays through Valley Transit. Please contact Valley Transit at 203-735-6408 the day before to utilize this service. Approximate arrival to the Center is 10:00am and departure from Center is 3:00/4:00pm. Through Valley Transit we also provide on Wednesdays a shopping bus to a specific local shopping center. Please see our monthly newsletter for schedules.
• Lunch is served daily and is $3.00 per meal. All meals are cooked on premises in our commercial kitchen and served from 11:45am-12:15pm.
• Assistance with Benefits Programs such as ConnPace, Medicare, Agency of Aging, Choices and Renters Rebate. Please call center Monday – Friday from 10:00am-2:00pm, for more information.
• Health screenings are offered monthly. The screenings included are hearing, blood pressure, a medical van on site, foot care, Flu vaccinations, and pharmaceutical needs.
• Educational programs offered monthly range between computer classes, photo classes, nutrition and medical workshops, driver safety classes, elder law and crime safety discussions.
• Wide range of travel opportunities; local, national and international trips offered throughout the year. Please see our monthly newsletter for trip offerings and registration dates.
• Seasonal themed fun social events and dances offered all year round.
• Fitness classes are offered daily and include: Walking Club at The Shelton Riverwalk, Strength Training, Cardio Aerobics, Wii Bowling, Chair Yoga, Tai Chi, Zumba Gold, Square Dance, Line Dance, Ballroom, and Country Line Dance.
• Other classes include: Art, Painting, Ceramics (kiln on site), Arts & Crafts, Crocheting, Knitting, Quilting, Book Club, Chorus and Music.
• Gaming groups meet many times throughout the week and include: Bingo, Bridge, Pinochle, Mah Jongg, Canasta, Billiards, Setback, Dominoes, Scrabble, and Billiards.
• Fitness equipment is available here for use and consists of treadmills and recumbent bikes.
• Billiard room with four pool tables is on site. Lessons are available and specific group gathering times are noted in the monthly newsletter.
• A large Bingo room is on premises. Bingo is held on Monday, Wednesday and Friday at 1:00pm. Prizes are awarded for each individual game played. Light refreshments served.
• Our beautiful library with fireplace is fully equipped with books for lending or just a nice quiet area to relax with friends.
• A Computer Lab is available and fully equipped with multiple computers/printers. Classes are offered every seven weeks for an additional charge of $10.00 per person. Please see newsletter for upcoming registration dates.
Please note: Many new events, classes and programs are always being offered throughout the year and posted in our monthly newsletter.
Public Meetings
All are welcome to attend.
Commissioner's Meeting is held the 2nd Tuesday of every month at 4:00pm.
Membership Meeting is held the 2nd Friday of every month at 10:30am.
We look forward to seeing you all soon!
Thank you.
From, All your friends at The Shelton Senior Center